Tokyo Grand Slam: Japan dominates despite Kathrin Unterwurzacher's win
Comments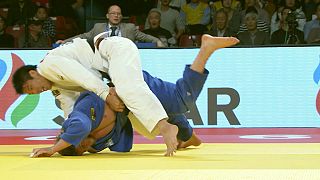 The opening day of the Tokyo Grand Slam was dominated by the home country but Japan got a rude awakening in the under-63 kg category.
Kathrin Unterwurzacher stunned the home crowd when she snatched a gold medal against the local girl Mini Miho.
The Austrian defeated the former Junior World Championship winner scoring a yuko with a ko-soto-gake, and managed to hang on until the gong.
"I was very motivated to win against a Japanese judoist in Japan for sure," said Unterwurzacher. "I was in a very good shape during the whole day and I was very excited for the fight and also very well prepared. It worked out and I am so happy about my gold medal.
"It's a challenge to fight in Japan against a Japanese. The crowd was on her side. But I brought some great fans from Austria with me and they supported me very well. It was so great to win and to hear the people cheer me on. I had a great time and I'm looking forward to the next years."
Honour was restored for the home nation as they finished off with a clean sweep of the remaining medals.
Niizoe Saki made a dream start to life on the circuit when she won her first-ever gold medal in her first-ever tournament.
It was not the prettiest of finals.
The 20-year-old put rival and defending champion Arai Chizuru under pressure from the outset and never looked back.
Nagase Takanori made light work of Dominic Ressel of Germany in the under-81kg final.
The world champion, Olympic gold medalist and world No2 seems to like this tournament as it's his third win at Tokyo Grand slam win in four years.
Hashimoto Soichi showed the strength in depth of the host nation. The absence of the Olympic champion Ono Shohei with an ankle injury did nothing change the destination of the under-73kg gold medal.
Soichi stepped up to the challenge to beat Doi Takashi on shido penalties.