Nuclear diamonds could solve clean energy problems
Comments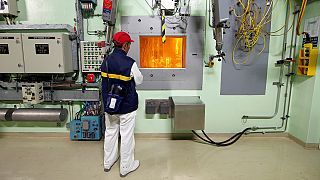 A team from the University of Bristol in the UK have created a diamond using nuclear waste, that can be made to produce an electrical current.
The project began as an attempt to safely dispose of contaminated graphite blocks- nuclear waste from the UK's reactors.
The UK has already created over 95,000 tonnes of radioactive graphite waste.
By burning this waste, radioactive carbon can be extracted in gas form, and transformed into diamonds.
But reducing radioactive waste is not the only use the scientists at Bristold University's Cabot Institute have discovered.
These diamonds can also produce a small electrical current, when placed in a radioactive field.
Because these diamonds have their own radioactive field, they can essentially create an electrical current on their own, without need for an outside element.
This form of electricity is efficient, too, as Professor Tom Scott explains that there are "no moving parts involved, no emissions generated and no maintenance required".
There is a lot of work to be done on the safety of these diamond batteries, but the potential is impressive for this new technology. The life time of the batteries could be revolutionary, with suggestions that they could take as long as 5,730 years to reach half power . That's about as long as human civilization has been on Earth.