Global stock markets fall on Trump presidency concerns
Comments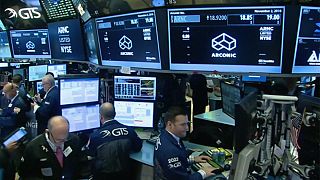 The latest US presidential election news is making the world's financial markets nervous.
With Trump nobody knows what he will do

Baader Bank analyst
Opinion polls that showed Donald Trump's numbers improving hit share prices and the value of the dollar again on Wednesday.
"As the polls change, the market is growing more nervous and is beginning to price in a Trump presidency," said Andre Bakhos, managing director at Janlyn Capital LLC in Bernardsville, New Jersey.
Investors see Clinton as the status quo candidate and they are anxious about Trump in the White House because of his statements on foreign policy, trade relations and immigrants.
Wall Street could fall 10-11% if Trump wins U.S. election, and rise 2-3% if Clinton wins, Barclays reckons. pic.twitter.com/EogQfy957u

— Jamie McGeever (@ReutersJamie) November 2, 2016
Alastair McCaig, Director of Investment Management with Fern Wealth, said that is not surprising given how many in the financial world failed to predict the Brexit vote: "We definitely have seen already so far this week a real risk-off mentality hit traders. That's quite understandable when you consider the percentages and the majority of the City, whether that be London, New York or anywhere else globally who had anticipated that Brexit wouldn't come to fruition. I think it would be naive for market observers not to be a little bit more cautious and reduce exposure in the run up."
Europe also in the red
European stock markets followed Wall Street's example suffering their eighth straight day of losses.
In Frankfurt, analyst Robert Halver with Baader Bank said: "With Trump nobody knows what he will do. During his election campaign he said he wanted to limit free trade, protectionism in favour of America. Is that only an election campaign position or is it actually the coming policy that will apply in 2017? This uncertainty, which is negative especially for exports, weighs heavy on the German stock exchange."
Safe havens
As investors sold shares and the dollar they moved the money into so-called safe havens – government bonds, the Swiss franc and the Japanese yen, as well as gold which rose to its highest level in a month.
Another negative was a further fall in crude oil prices. They were down for the fourth day after industry data showed a surprise build in US stockpiles. Oil has lost more than 10 percent in the last two weeks.
#Oil prices continue to crash as the #EIA reports the biggest inventory build in 34 yearshttps://t.co/juJ9io1HWB

— OilPrice.com (@OilandEnergy) November 2, 2016
$50 fading fast. Brent crude oil -12% in the last two weeks, U.S. crude -13%.

— Jamie McGeever (@ReutersJamie) November 2, 2016