Spain's economy still growing but expansion slows slightly
Comments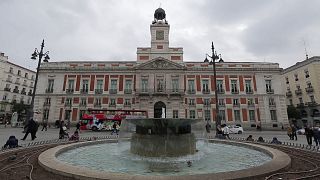 Spain's economy continues to grow, but it expanded at a slightly slower pace in the three months to September.
Gross domestic product was up by 0.7 percent compared to the previous quarter.
It improved by 3.2 percent from the same period a year ago. Annualised growth in the second quarter touched 3.4 percent.
#Spain#GDP rises 0.7% in Q3, down marginally from 0.8% in Q2 and in line with our #PMI. October PMI results out next week pic.twitter.com/O4gUE72NXG

— Markit Economics (@MarkitEconomics) October 28, 2016
Weak inflation, a job market recovery and a bumper tourist season have boosted consumer spending this year, helping Spain's three-year recovery from recession stay on track in recent quarters.
This comes as conservative leader Mariano Rajoy was set to return to power.
Spain has had only a caretaker government for the last 10 months after inconclusive elections. A deadlock between political rivals on the left and right has now been resolved.
But Rajoy's party will not have a majority in parliament and could face problems agreeing a budget for 2017 with the Socialist opposition, even as Spain's economy is expected to start slowing more markedly next year.
Introducing the further labour reforms that Rajoy wants could also be tricky.
Spain's gross domestic product is widely expected to expand by at least 3.0 percent this year, while the caretaker government forecasts growth will slow to 2.3 percent next year.
The IMF puts Spanish GDP growth above the main European countries https://t.co/xtNas9euy7#spain#gdp#imf#economy#investinspainpic.twitter.com/9YUeoy9Z0N

— Housers_en (@housers_en) October 7, 2016
Spain's inflation was running at 0.5 percent year-on-year, up from nothing in September and the job market is showing signs of recovery.