Over the moon: delight as space probe Philae is found
Comments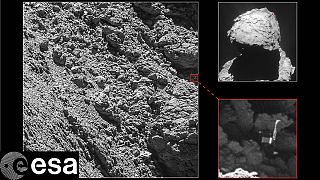 European space scientists are celebrating tonight after finding a comet lander they'd almost given up hope of ever seeing again.
Pictures have today emerged of Philae, the first space probe to land on a comet, wedged in a dark corner of the extraterrestrial object on September 2.
Communication links with the probe were lost shortly after it made history in November 2014, by touching down on the surface of Comet 67P.
euronews space correspondent Jeremy Wilks chats with Rosetta team members Pablo Muñoz and Armelle Hubaultand at
ESA

's operations centre in Darmstadt, Germany, on the finding of groundbreaking space probe Philae
Euronews' space correspondent Jeremy Wilks reports on the finding of groundbreaking space probe Philae
It was Paolo Ferri who broke the news to me today that Philae had been found, as he arrived for an interview we were scheduled to record for Euronews' Space series about Rosetta's final moments. "It's a great day for ESA today," he smiled, and knowing nothing at that point, I responded, "Why's that?"
"We found Philae on the comet!" exclaimed ESA's head of mission operations, his eyes full of the emotion that so many in the space community feel when talking about this remarkable mission. It turns out that the Rosetta team has been searching for Philae quite intensively for the past month or so, and had all but given up hope of finding the little lander, which was last heard from in summer 2015.
"It's not just emotional, it's great for science," Ferri told me. "But there were plenty of tears in the eyes of the team when we told them this morning, that's for sure."
Philae was found on one of the last passes the Rosetta mothership would make over the landing zone, as it prepares to end its own mission on 30th September by slowly and deliberately crashing onto the comet, self-destructing in the process.
One of the reasons the Rosetta and Philae mission provokes such emotion is its long history, stretching back into the early careers of many of the scientists and spacecraft operations experts who are now senior staff close to retirement. The other has been the sustained media and public reaction to one of the most daring displays of spaceflight in history.
The team now has the exact position of the lander, and can put all that data about its landing into context. That final bit of missing data will mean many puzzles about Philae's trajectory when it 'bounced' on the comet and dropped into its shadowy resting place should eventually be solved.
Follow @WilksJeremy
The difficulty in making contact led space chiefs in July to opt to cut Philae's communication systems, to help conserve power on its mothership, Rosetta.
It was cameras on Rosetta that managed to capture pictures of Philae on September 2, sparking joy from those involved in the European Space Agency (ESA) mission.
Paolo Ferri: "It's a great day for ESA today" Me (knowing nothing 'cos of embargo): "Why's that?". Ferri: "We found Philae on the comet!"

— Jeremy Wilks (@WilksJeremy) 5 de septiembre de 2016
"This remarkable discovery comes at the end of a long, painstaking search," said Patrick Martin, ESA's Rosetta mission manager. "We were beginning to think that Philae would remain lost forever. It is incredible we have captured this at the final hour."
The picture of Philae in such an awkward position has given space scientists some explanation as to why communication was so difficult with the probe.
The mission to land the probe was designed so that a comet could be studied up close, in the hope it will provide vital clues about the original materials that went into building the solar system.
Spacecraft Rosetta will follow Philae in landing on the comet when the mission ends on September 30.
ESA says the final hours of descent will allow the spacecraft to make 'many once-in-a-lifetime measurements, including very-high-resolution imaging, boosting Rosetta's science return with precious close-up data achievable only through such a unique conclusion'.