Scientists end Mars simulation experiment after one year in a solar-powered dome
Comments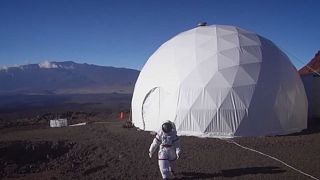 Six scientists have emerged from a solar-powered dome on a Hawaiian volcano having completed a year-long experiment mimicking life on Mars.
During their time in near isolation from the outside world, the volunteers who were from France, Germany and the US, had to manage limited resources while conducting research.
"Showing that it works, you can actually get water from the ground that is seemingly dry. It would work on Mars and the implication is that you would be able to get water on Mars from this little greenhouse construct," said German scientist Christime Heinicke.
The team was made up of a French astro-biologist, a German physicist and four Americans – a pilot, an architect, a journalist and a soil scientist.
They lived in close quarters in the dome, without fresh air, fresh food or privacy. It's little wonder they also had to work hard to avoid personal conflicts.
While conducting the NASA funded experiment they were only allowed outside if wearing space suits.
The point of the project was to create guidelines for future missions to Mars, which is the long-term goal of the US human space programme.
Experts estimate that a human mission to Mars could take between one and three years.
When asked what the volunteers were looking forward to the most after a year's deprivations, one said, "fresh food and going for a dip in the ocean".
Year-Long Simulation of Humans Living on Mars Comes To an End https://t.co/ZwozRRZ4BMpic.twitter.com/PMIsznIHc2

— Jennifer Ouellette (@JenLucPiquant) 28 August 2016