ChemChina Syngenta takeover moves closer with US government approval
Comments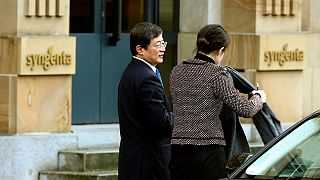 The US government has decided there is no risk to America's national food security from ChemChina's takeover of Swiss pesticides and seeds group Syngenta.
Approval from the Committee on Foreign Investment in the US (CFIUS) boosts the chances that the deal will go through.
It would be the largest foreign acquisition ever by a Chinese company.
ChemChina is offering $43 billion (38 billion euros).
The deal comes as China looks to secure food supplies for its population.
ChemChina and Syngenta receive clearance from the Committee on Foreign Investment in the United States (CFIUS) : https://t.co/4HSbM4UJqV

— Syngenta (@Syngenta) August 22, 2016
Syngenta is a key player in the market for pesticides and seeds and has a number of US manufacturing facilities.
A quarter of its revenue came from sales in North America last year and politicians in major agricultural states in the US had urged Washington to closely scrutinise the deal.
Syngenta shares jumped and were up by almost 11 percent by the end of trading on Monday. Concerns that CFIUS might not approval the acquisition had kept them below ChemChina's bid price.
The national security panel's approval will be of particular interest to Monsanto, the world's largest seed company, which is considering a merger with Germany's Bayer.
U.S. allows Chinese state-owned chemicals company to buy Syngenta, a giant Swiss seeds and farm chemicals company https://t.co/oZ4ao4Ty2D

— Keith Bradsher (@KeithBradsher) August 22, 2016
With a growing number of Chinese companies looking to acquire US peers, CFIUS had emerged as a significant risk for such deals, particularly those with potential cyber security implications.
For example, in February, state-backed Chinese firm Unisplendor scrapped a $3.78 billion investment in Western Digital after CFIUS said it would investigate the transaction.