Syria: Residents return to Manbij after ISIL is forced out
Comments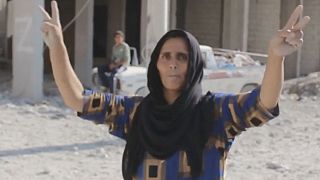 Thousands of displaced residents have streamed back into Manbij in northern Syria, now that the last ISIL extremists have fled their former stronghold.
The homecomers' joy and jubilation was shared by the US-backed Syria Democratic Forces (SDF), who have liberated the city near the Turkish border and are now in full control.
"May God salute you!" one woman cried out to the soldiers.
"You are our children. You are our heroes. You are the blood of our hearts. You are our eyes. Get away Daesh," she yelled, using another name for the so-called Islamic State group.
"We don't care about your snipers."
Thousands return to Manbij after IS militants flee city https://t.co/2wPId5Ibiz

— Reuters Top News (@Reuters) 13 août 2016
It took more than two months for the Kurdish and Arab fighters of the SDF to win the battle for Manbij, with heavy support from the US-led coalition.
"We have cleared Manbij of the mercenaries of Daesh and now we are clearing away the mines planted in the houses and streets so that people can come back," said SDF fighter Abdul Rahman Jomaa Al-Salem.
Some of the hostages ISIL took when fleeing Manbij have now been released.
The loss of the city, occupied by ISIL since early 2014, is a big blow to the militants as it is of strategic importance, serving as a conduit for the transit of foreign jihadists and provisions from the Turkish border.
But elsewhere in Syria the horror of war continues, notably in Aleppo and also in rebel-held Idlib province with reports from recent days that Russian and Syrian regime air strikes have left many civilians dead.