The big bills for US presidential conventions
Comments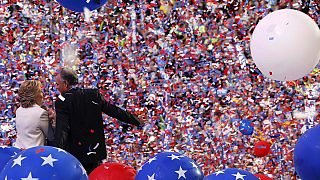 With the candidates chosen for the US presidential election in November, it's time to count the cost.
The hoopla of the party conventions doesn't come cheap.
The final bill for the Republicans' bash in Cleveland is estimated to be around $81 million (72 million euros) while the Democrats in Philadelphia probably shelled out $67 million (60 million euros).
That is a lot of balloons and placards and, according to the Public Interest Research Group, much of the money comes from corporate donors particularly banks, energy companies and telecommunications firms.
Who funds #conventions? Corporations, the 1%, + lobbying firms seeking to curry favor w/ policymakers. We call foul. https://t.co/Kr2fJuM1yI

— DemocracyIsForPeople (@democracy4ppl) 25 de julho de 2016
Security for the events is a big ticket item; the federal government gives up to $50 million (44.7 million euros) to each host city to cover policing and related costs.
But this year for the first time since 1976 the US taxpayers didn't subsidise the conventions. A new law removed from people's tax returns the option to earmark money for something called the Presidential Election Campaign Fund.
The theory is that the host cities gain from the inflow of cash spent by visitors. Cleveland calculated it received 50,000 people, of which 15,000 were accredited journalists and 2,472 were delegates.
Party #Conventions to Create $360 Million in Direct Spending for Host Cities https://t.co/l9exGbeJRGTheCLE</a> <a href="https://twitter.com/visitphilly">visitphilly#planners#travel

— Midwest Meetings (@MidwestMeetings) 20 de julho de 2016