Canal discovered beneath Mayan temple could be gateway to afterlife
Comments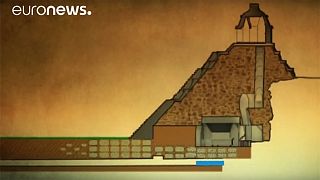 Archaeologists in Mexico have discovered a canal system under a temple in the Mayan ruins of Palenque that experts believe could be a symbolic gateway to the underworld for the ancient civilisation.
The hydraulic system was uncovered using sonar technology at the Temple of the Inscriptions, which houses the seventh-century tomb of the Mayan ruler Pakal. The significance of the ancient ruler and the temple have lead many to conclude that the canal is of particular significance to the Mayan afterlife.
An inscription in Pakal's tomb also gives weight to the theory as it states that to be accepted into the Mayan underworld the dead must be submerged in water.
Images released by Mexico's National Institute of Anthropology and History (INAH) provides the first glimpses into the ancient canal network which has different levels and still has running water.
"There are 17 linear metres, which is as far as we could get although we can see in the images that at the furthest point they [the channels] still continue. These 17 metres (55 linear feet), if one puts it on a map to scale, we are almost at the threshold of the northern wall of the burial chamber. The case here is interesting, important for being under the Temple of the Inscriptions and for being the most important building of the site," said INAH archaeologist, Arnoldo Gonzaldez.
There are still many unanswered questions regarding the canal system such as its length and where it begins but archaeologists have determined the hydraulic system was built before the construction of the Temple of the Inscriptions.
"With this discovery, the perspective changes a little of how it was done or how the temple was built. The initial approach – well, this construction was ripped out with the construction of the burial chamber and from there, all the bodies, the nine bodies that make up the temple were put with the building in the upper part. Now with this new information, we can clearly think of it in a different way," added Gonzaldez.
The Mayan ruins at Palenque is one of Mexico's most mysterious with new discoveries made regularly. Last year, investigators finally decoded the hieroglyphic name of the Mayan King Pakal at the temple decades after the modern-day discovery of the site.
The Maya civilisation, which developed hieroglyphic writing, a calendar and astronomical system, reached its peak of influence between AD 250 and 900, extending its reach over what is now Belize, Guatemala and Honduras.
Palenque was its most important city of the low western lands during the late Classic period, reaching its peak between 600 and 800 A.D. Along with Tikal and Calakmul, it was one of the most powerful Classic Mayan cities, as well as the seat of the distinguished Pakal dynasty.
Reuters