Vueling faces Spanish government enquiry after stranding thousands in Barcelona
Comments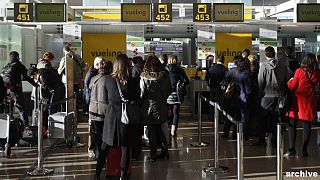 British Airway's low-cost sister outfit Vueling may face stiff financial penalties after its executives were called in to meet with representatives of the Spanish government following thousands of passengers being stranded at Barcelona airport.
In the last few days 48 flights have been cancelled, and another 60 were scratched on Tuesday. Vueling is having problems across Europe.
`We have six more planes for July and August that will give us some breathing space these two months. We have hired 32 more pilots,` said Vueling's Commercial Director David Garcia Blancas.
Spain's Acting Public Works Minister has launched an official enquiry to see if the company oversold tickets. More than 8000 passengers faced delays of up to 12 hours in Barcelona.
`We have initiated an investigation and they might be fined, not only giving back the money to the passengers but paying compensation,` said Ana Pastor.
Barcelona is the company's main European hub, but its secondary hub in Rome is also under pressure as are several other destinations. Vueling's claim it has been hit by a strike by French air traffic controllers has been dismissed.