'Scotland's voice will be heard' - Sturgeon vows to fight to maintain EU ties
Comments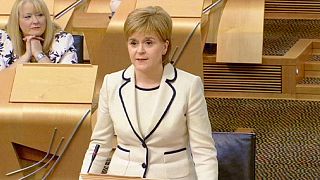 "Scotland spoke clearly for remain and I'm determined Scotland's voice will be heard," First Minister Nicola Sturgeon has told Holyrood.
Independence [...] is not my starting point in these discussions.

First Minister of Scotland
She asked the Scottish parliament for a mandate to explore every option to maintain Scotland's involvement in the EU, but said independence from the UK would not be the first task in hand.
"While I believe that independence is the best option for Scotland, it is not my starting point in these discussions. My starting point is to protect Scotland's interests and to protect our relationship with the EU," she told parliament.
More than two thirds of Scottish voters (62 percent) opted to stay in the European Union.
Continued membership of the EU was one of the deciding factors for many Scots who voted to remain part of the UK in Scotland's 2014 independence referendum, Sturgeon said, but this is no longer the reality. Therefore, she reiterated, leaving the EU is "against the will of the people and is democratically unacceptable."
The first minister told Holyrood she and her advisers were starting to prepare legislation for a second referendum on secession from the UK. However, she stressed that she was not asking parliament to vote on an independence referendum now, highlighting that the legislation was being prepared for use if it is needed at a later date.
"Our early priority has been to ensure that there is a widespread awareness across Europe of Scotland's different choice in the referendum and of our aspiration to stay in the European Union," Sturgeon said.
Her Scottish National Party (SNP) is two MSPs short of the 65 needed for a majority in Holyrood. If backing for another referendum is needed in the future, it is likely that Sturgeon will seek the approval of the six pro-independence Greens MSPs.
[Live footage] First Minister of Scotland Nicola Sturgeon remarks on Brexit vote outcome https://t.co/wefC9hJHNV

— euronews (@euronews) June 28, 2016
Sturgeon said she would also listen to and seek to address the concerns of the 38 percent of Scottish voters who opted to leave the EU.
She outlined three main points for Holyrood's consideration.
To reassure EU nationals living and working in Scotland that they are welcome
The First Minister told anyone with concerns "you are welcome, this is your home and we welcome your contribution."
Referring to a reported increase in racist attacks since the referendum on membership of the EU, she called on parliament to unite to make sure Scotland is "an open and welcoming country," adding "racism will not be tolerated."
To ensure Scotland remains an attractive prospect to businesses and investors
She said she planned to engage with businesses, organisations and stakeholders to "provide clarity and understand their concerns."
Sturgeon told the chamber see was determined Scotland would continue to have access to the single market, arguing that if the country finds a way to maintain a relationship with the EU, it will become even more attractive to businesses and investors.
"We listen and we will lead," she said, adding that it's what people expect of Scotland and what it will continue to do.
Protect Scotland's relationship with the EU
"I am utterly determined," the first minister stressed, to protect Scotland's relationship with and status in the European Union.
She said it was vital that Scotland seized the opportunity to make its voice heard before Article 50 is triggered, beginning the process of the UK's departure from the EU.
In the days following the referendum, Sturgeon has spoken about relations with the EU with the Mayor of London Sadiq Khan and the Chief Minister of Gibraltar Fabian Picardo, among others.
She is also in touch with the European Commission and the European Parliament in Brussels to emphasise Scotland's wish to remain in the Union.
In Brussels on Tuesday (June 28), Scottish MEP Alyn Smyth got a standing ovation from the European Parliament for a speech ending "Scotland did not let you down, do not let Scotland down."
"Scotland did not let you down, do not let Scotland down." @AlynSmithMEP gets standing ovations from European Parly.https://t.co/wBbCoVC5UW

— The SNP (@theSNP) June 28, 2016
Sturgeon is to meet the President of the European Parliament Martin Schulz and other officials in Brussels on Wednesday (June 29) to directly outline Scotland's position to the Commission.
---
Standing Council of Experts
A Standing Council of Experts is to be established to provide parliament with advice on the next steps to take. Led by the Principal of Glasgow University, Professor Anton Muscatelli, it will offer recommendations on matters involving finance, economics and European matters. Council membership will be flexible, Sturgeon said, and assured the chamber that she would return to parliament to seek approval for any outcome of the discussions.
---
UK-wide petition
A petition – "EU Referendum Rules triggering a 2nd EU Referendum" – seeking a second vote on independence from the EU had garnered almost four million signatures at the time of writing. However the British press has cited UK Prime Minister David Cameron's spokesperson as saying another vote is "not remotely on the cards."