Watch: how does this woman walk through minefield unharmed?
Comments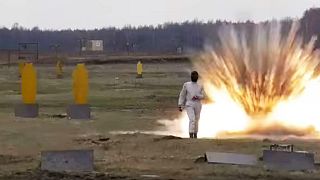 It's an impressive feat: unphased by the explosions triggered beneath her steps, the woman strolls through the rapidly-cratoring mud before removing her protective balaclava and shaking loose her hair.
But contrary to appearances, the test of the latest weapon to be added to Russia's arsenal was a success.
The exposives are designed not to kill. Instead they are intented to disorient and panic the enemy.
Neverthless, deputy prime minister Dmitry Rogozin was not going to miss such a spectacular opportunity to promote his compatriots' steel.
"Terminator is a pityful shadow of this weapons-tester at a Russian military complex," he noted. "If our girls are like that, imagine the boys."
Терминатор-жалкое подобие девушек-испытателей #ВПКhttps://t.co/VrOJfwllpe Так наши девушки по минным полям гуляют) pic.twitter.com/ubms4F6xCx

— Dmitry Rogozin (@Rogozin) April 22, 2016