The World Bank and IMF fear Brexit will add uncertainty to a fragile global economy
Comments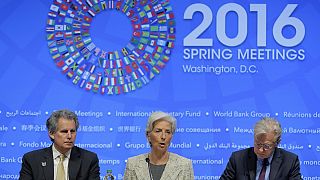 The World Bank and the IMF have been meeting in Washington with the possibility of the United Kingdom leaving the European Union high on the agenda.
WATCHLIVE: IMF's Christine Lagarde says global recovery remains "too slow and too fragile" https://t.co/dbRyL0yiYjpic.twitter.com/OzqtJHzqrc

— Bloomberg TV (@BloombergTV) April 14, 2016
The head of the IMF Christine Lagarde is fearful a Berxit will add further confusion to an already fragile global economy:
"We have clearly elevated Brexit as one of the serious downside risks on the horizon of global growth.
It has been a long marriage between members of the European Union and it's my personal hope that it doesn't break. And like all marriages, good talks can actually help. And I hope that the dialogue can continue."
WATCHLIVE: World Bank President Jim Yong Kim speaks at press conference https://t.co/dbRyL0yiYjpic.twitter.com/cznanpldYX

— Bloomberg TV (@BloombergTV) April 14, 2016
The president of the World Bank, Jim Yong Kim, gave his backing to multinational organisations and urged the UK voters not to be hasty: "The Brexit is for the British voters, and we leave it to the British voters to decide. Given our projections of lower growth this year – that is not going to do well with more uncertainty."
The IMF has recently cut its growth forecast for the UK from 2.2 per cent to 1.9 per cent, marking the sharpest drop of any advanced economy other than Japan.