Solar Impulse undergoes test flight to continue its global journey
Comments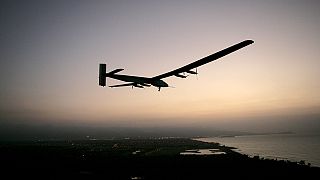 A solar powered plane attempting to circumnavigate the globe has made a test flight over the US state of Hawaii.
It's getting ready to continue its journey.
The aircraft, called the Solar Impulse 2, was grounded since July after battery damage caused during a record-breaking flight across the Pacific.
Flight controllers and the pilot landed in Honolulu after five days and five nights in the air .. shattering the record for a non-stop solo flight set by Steve Fossett in the Virgin Atlantic Global Flyer in 2006.
The Solar Impulse's batteries were damaged during the last leg of its journey from Japan to Hawaii. It's taken months to repair.
The next flight, a four-day, four-night trip to Phoenix, Arizona is expected to take place at the end of April or early in May.