Corruption investigators detain former Brazilian President Lula da Silva for questioning
Comments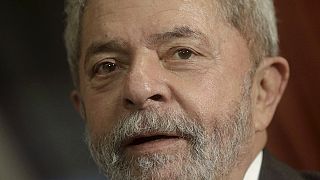 The former Brazilian president Lula da Silva has been taken into custody for questioning as part of a probe by police into claims of bribery and money laundering.
It is an aggression against the law ... unjustifiable
Investigators are looking into allegations that Lula benefited from illegal kickbacks at the state oil company Petrobras which financed campaigns and expenses for his ruling Workers Party.
Outside the former president's home there were scuffles as supporters protested against the police action.
Lula denies any wrongdoing and a foundation he formed has described his detention as an "aggression against the rule of law" and "unjustifiable".
Lawmakers and some business executives have also been caught up in the investigation.
Police say they carried out 33 search warrants and 11 detention warrants on Friday in 'Operation Carwash', including in the hometown of the former president.
Brazil's markets are rallying as Lula's detention by police signals Rousseff's days in office may be numbered https://t.co/tgqgvOQr0h

— Quartz (@qz) March 4, 2016
Brazil's largest scandal rattles palace gates as police raid home of former President Lula https://t.co/6Pd4iUE2xkpic.twitter.com/UGVATOLRxy

— Fusion (@ThisIsFusion) March 4, 2016
Police keeping rowdy crowd out of Federal Police station at CGH airport, where Lula is detained. pic.twitter.com/FnotvFRVjA

— John Lyons (@LyonsBrazil) March 4, 2016
Our profile of the team of prosecutors who cracked open this corruption scandal, now at Lula's door.https://t.co/oxDlOYYpTC

— Will Connors (@wconnors) March 4, 2016
Lula's detention in Brazil means that Rousseff's days may be numbered. https://t.co/rMISjdIKRI

— Steve LeVine (@stevelevine) March 4, 2016
Brazil ex-President Lula da Silva held for questioning, home raided in corruption probe https://t.co/vNillEpBaIpic.twitter.com/RszLAaN7SD

— Fox News Latino (@foxnewslatino) March 4, 2016