World Economic Forum: EU starts 2016 deeply divided over migration crisis
Comments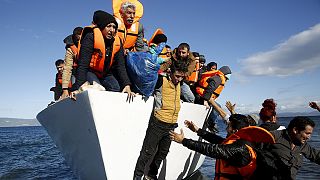 A small window into a global humanitarian crisis, the 'Day in the Life of a Refugee' experience at Davos gives delegates a chance to stand in the shoes of a displaced person.
Europe needs to have real, structural policies, and go beyond improvised emergency responses
The UN says the number of displaced people worldwide jumped to nearly 60 million last year, much of that increase due to the conflict in Syria.
The hour-long simulation run by the Crossroads Foundation has former refugees and NGO workers act as soldiers and camp bosses.
Correspondent Sarah Chappell reported: "More than a million migrants and refugees arrived in Europe last year, the majority of those fleeing war-torn Syria. As yet, there are no signs that 2016 will see a reduction in numbers."
Divisions have been widening within the EU over how to handle the crisis, and over the number of arrivals that European countries can absorb.
Winnie Byanyima, the Executive Director of Oxfam, told euronews that Europe cannot turn away:
"I think European countries need to be encouraged to do more to step up to their international responsibilities towards refugees, and to recognise that they are part of the problem at source."
Just finished interview with euronews</a> on <a href="https://twitter.com/hashtag/inequality?src=hash">#inequality</a> <a href="https://twitter.com/hashtag/climate?src=hash">#climate</a> <a href="https://twitter.com/hashtag/Africa?src=hash">#Africa</a> <a href="https://twitter.com/hashtag/refugeecrisis?src=hash">#refugeecrisis</a> <a href="https://twitter.com/hashtag/WEF16?src=hash">#WEF16</a> for tonight <a href="https://t.co/Qe1oJdoWbl">pic.twitter.com/Qe1oJdoWbl</a></p>&mdash; Winnie Byanyima (Winnie_Byanyima) January 21, 2016
International Crisis Group President Jean-Marie Guehenno feels that Europe's challenge is likely to get harder before it gets better for as long as the causes of the migration crisis remain unresolved:
"I think Europe has to see big movements of populations as a lasting feature – and for that it needs to have real, structural policies and go beyond improvised emergency responses."
Many activists, politicians and commentators seem to agree with German President Joachim Gauck, who has said:
"No other problem has divided and jeopardised the EU more than the refugee problem."
"No other problem has jeopardised the EU as Joachim Gauck, President of the Federal Republic of Germany
https://t.co/BRrOrZz34W

— Rat_des_champs (@Rat_des_champs) January 21, 2016