US gunmaker Smith & Wesson sees sales and profits soar
Comments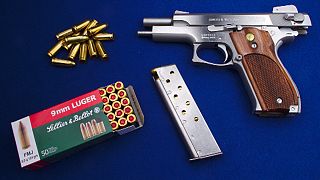 The American gunmaker Smith & Wesson has reported in its latest quarterly statement that profits in the three months to October almost tripled compared to a year earlier.
Net income was $14.19 million (12.94 million euros), compared to $5.23 million (4.77 million euros) for the same period in 2014.
Sales increased by nearly a third year-on-year, bringing $143 million (131 million euros) in revenue.
Shares have increased by 126 percent this year; 428 percent in the past five years according to Reuters.
US firearms manufacturers seem to be impervious to the effect of America's mass shootings: with each call for more gun controls, sales increase as people stock up in fear of future ownership restrictions.
In the week after the San Bernadino massacre that saw radicalised Islamists kill 14 people, Smith and Wesson's stock rose by 17 percent, a trend that has reportedly been observed in the wake of previous shooting atrocities.
Smith & Wesson shares have surged about 17 percent since #SanBernardino shooting: https://t.co/fmLPJg7NKipic.twitter.com/kpLNBHhnAT

— Reuters Business (@ReutersBiz) December 8, 2015