Swansea's energy-generating lagoon primed for power
Comments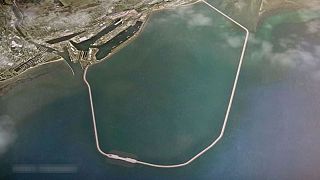 A beautiful stretch of coastline in Swansea, southern Wales will soon be home to an energy-generating lagoon.
Work is expected to begin in early 2017 on the 1.5 billion euros project to build a 9.5 kilometer sea wall.
16 bi-directional turbines sat on the sea bed will be used to help monitors measure the difference in water level between the sea and the lagoon.
Initially, the level in the lagoon will be low and as the tide comes up, water starts flowing into the lagoon through the turbines. The turbines power the generators which deliver electricity into the grid. And then the opposite way when the tide comes down.
Ton Fijen, technical director for Tidal Lagoon, explained the project has many uses: "They're not just power stations, they can be used for a lot of other facilities as well. For recreation, for mariculture, things like that. Also they are a huge facility that in principal can be used for flood protection along the foreshore. "
Swansea Tidal Lagoon claims it will generate a total of approximately 495,000 MWh (megawatt-hour) a year, roughly equivalent to 11 percent of Wales' annual domestic use.
But some critics like the Angling Trust believe the lagoon could cause major damage to fishing stocks.
"Lot of species will use the Severn Estuary as a nursery area, so it could have an impact on fish stocks for a very large area. The other impact is on the fresh water fishing for migratory fish and there are a lot of industries that depend on fishing in an indirect sense," said Mark Lloyd, chief executive of the Angling Trust.
Fears have also been raised over the environmental impact the lagoon's construction may cause, particularly the local sourcing of five million tonnes of rock to construct its wall.