The house in Stuttgart which uses no fuel
Comments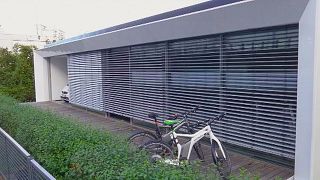 Appearances can be deceptive. That's certainly the case with a regular looking building in Stuttgart. Sight of the solar photovoltaic-thermal panel roof is perhaps one of the biggest clues. For this small house represents the very peak of energy efficiency. It's called the B10 house and is in central Stuttgart.
It has a highly tuned system for heating and electricity consumption it produces more energy than it needs. No kind of fuel is burned here.
The house is designed to generate 200 percent energy, a target it hopes to hit within the next year.
"For me the most important thing about the project is the interactivity and the intelligence of the software we are using here. It's not so much the hardware, the materials, the construction even though that is important. But it really is the fact that the house starts to think for us and helps us distribute the energy within this area here," explained Frank Heinlein of the Stuttgart Institute of Sustainability.
Orchestrating everything to work together in the house is a specially designed app. The early results have been encouraging with the house for example producing enough surplus electricity to power an electric car, heat a nearby museum and still feed some electricity into the public grid.
Energy efficiency like this could be the future for the construction sector.
"The building sector is responsible for more than 30 percent of global energy demand and round about 20 percent of global greenhouse gas emissions. In order for us to be able to achieve savings from buildings and also to contribute to reducing global warming, we have to ensure that the building sector can move in the direction of bests practices," pointed out Peter Graham, Executive Director of the Global Buildings Performance Network
The design of B10 is based on the concept of "triple zero" that is zero energy, zero emissions and zero waste. The house is currently being used as a test bed for a range of connected home and sustainability technologies.