China resettles drought-afflicted residents
Comments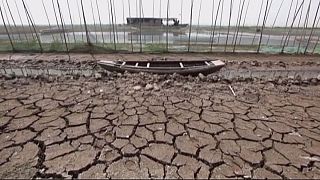 Drought makes life hard for many farmers in China's mountainous northwest. Many have left to try to make a living elsewhere, and many more are being resettled by the government.
Of the more than 19 million people displaced by natural disasters worldwide last year, a vast majority were in Asia, including the Philippines, China and India.
Average rainfall in Ningxia Province is anywhere between 200 and 600 millimeters per year. And climate change also appears to be taking its toll with a 2.2 degree rise in temperature over the past 50 years.
"There's no water for our corn, look at it, it's doesn't look anything like corn that's had enough water. There's not a single good cob. There is no water," says farmer Ma Jingwu.
Most former residents of the village of Dacha have moved under a government plan to relocate some 350,000 people. Over the past years Dacha has shrunk from 60 families to just 11 living in the valley. As people leave, schools and other facilities are forced to close down, making life tougher for those left behind.
"After people left, there weren't enough people here anymore, the village has completely died. I was born in this village, I grew up in this village. Everyone struggles with the same feelings," says Yang Zhenjun, a fifth generation resident of Dacha.
The Chinese government is proud of its relocation effort, saying it is helping the people on the path to success. Many are reportedly content with the change. While the young find it easier to adapt, it is sometimes hard to find work, and many elderly find it difficult to adjust, especially without any land to grow.