Mass hotel and business cancellations in Paris post-attacks
Comments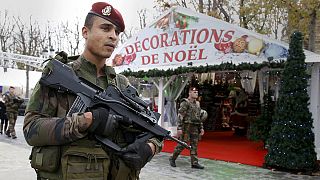 The evidence may only be anecdotal so far, but there are reports that tourism and business in Paris is being hit in the aftermath of last week's terrorist attacks.
Numerous professional conferences and exhibitions have been cancelled in the French capital, France Television reported, leading to a catastrophic drop in orders for caterers of around 85-90 percent.
The main union representing the hotel and restaurant industry estimates that reservations for next week are between 40 and 60 percent down on the usual number.
Close to the Elysee in Paris, the hotel Le Bristol says a third of bookings for the rest of the year have been cancelled.
"After the January attacks it took us nine months to find a normal rhythm again. And at the moment, in the last quarter we were experiencing a very sustained level of activity. Unfortunately, right now, we're going to take several steps backwards," said the hotel's director Didier Le Calvez.
The Asian market is being watched closely. One travel agency in Shanghai expects the number of French-bound tourists to drop by around 20 percent.
More than two million Chinese visitors had been anticipated this year, well up on 2014.
"I don't have any plan to go to France in the near future because the crisis has not calmed down yet. You have to be careful about personal safety," said travel agency customer Hua Yinqing.
South Korea's Incheon Airport has tightened security generally; the government is advising people not to visit Paris.
But amid reports that domestic activity is holding up, there's hope that as with previous terrorist attacks there won't be lasting economic harm.