Shares steady as markets shrug off impact of Paris attacks
Comments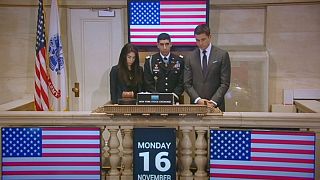 Worldwide tributes to the victims of the Paris terror attacks extended to Wall Street, where investors saw little long-term economic impact.
Shares were up in most sectors, but those linked to travel took a hit, including several US airlines.
European shares were steady as a slump in travel stocks was offset by gains in energy.
Crude oil prices rose slightly as France stepped up airstrikes against the self-styled Islamic State in Syria, amid concerns about supplies.
Prices soon came down again amid concerns of a global supply glut.
"I do not think that there will be long-term repercussions (on the market). Politically-influenced stock exchanges don't last long. We always see that, it was the same with September 11, though they took a while to recover then. Unfortunately, we are somewhat used to terrorist attacks. But I am convinced there will only be a short-term effect," said Robert Halver, head of market research at Baader Bank in Frankfurt.
Stock markets in London were also slightly up after recovering from early falls.
The pan-European FTSEurofirst 300 index edged up 0.2 percent, France's CAC was down 0.1 percent.
Overall markets seemed to shrug off the effects of the attacks as investors look to the longer term.