Open Europe's skies to Gulf carriers within the rules, EU Commissioner tells euronews
Comments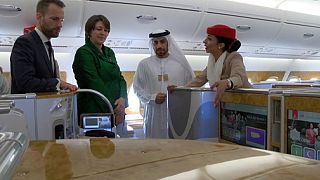 The presence of the European Union's Transport Commissioner at this week's Dubai Air Show has sent an important message to both Europe and the Gulf: open skies are the way forward – though newcomers must play by the rules.
As the EU draws up a new aviation policy to be unveiled next month, Violeta Bulc says she wants Gulf carriers to be part of an expanded single European skies policy.
"Europe has a very strong advantage: its has a solid developed market, it has a strong middle class that travels a lot that really is ready to spend, we also are still the leading in the technology and innovation. These are very strong elements. On the other hand, Gulf carriers are important investors and, of course, they need market," Violeta Bulc told euronews.
Commissioner Bulc_EU</a> & EU Ambassador to the <a href="https://twitter.com/hashtag/UAE?src=hash">#UAE</a> promoting European aviation technology <a href="https://twitter.com/DubaiAirshow">DubaiAirshow#DubaiAirshowpic.twitter.com/ixX9UVfvFg

— EU In the

UAE

(@EUintheUAE) 10 Novembre 2015
The Slovenian commissioner says there has been "a lot of hype" surrounding claims, denied by Gulf carriers, that they benefit from state subsidies.
The expansion of the "big three" – Emirates, Etihad Airways and Qatar Airways – has been questioned particularly in the US amid strong complaints that alleged state subsidies amount to unfair competition.
The #UAE & #Qatar are threatening U.S. aviation jobs by subsidizing their state-owned airlines with over $40B. pic.twitter.com/W6rOgUVWNM

— Fair Skies (@fairskies) 11 Novembre 2015
Opening up Europe's skies further to Gulf carriers when some of its own airlines are in turmoil will be delicate.
"We both have needs and we both have very strong ambitions to co-create global strategies in aviation and I think here our ambitions have met. So I am planning to build on that, of course, but once they come and play the role, even a greater role on European markets they have to obey to European rules," the commissioner added.
Hooray for EC Transport Commissioner Ms. Bulc: "We would like to establish a level playing field" vis-a-vis hugely subsidized Gulf airlines.

— Rob Britton (@PlanelySpeaking) 6 Novembre 2015
Violeta Bulc also pointed out that the Gulf region accounted for half of all orders for Airbus planes – implying that the European planemaker stands to gain from its clients' potential new business.
The EU's new strategy is due to be unveiled on December 2.
#EuroNews interviewing Commissioner Bulc_EU</a> on relationship between Gulf Airlines & European Airlines <a href="https://twitter.com/hashtag/DubaiAirshow?src=hash">#DubaiAirshow</a> <a href="https://t.co/dJSP5q6rek">pic.twitter.com/dJSP5q6rek</a></p>&mdash; EU In the UAE (EUintheUAE) 10 Novembre 2015