Malmö - a smart city in the making
Comments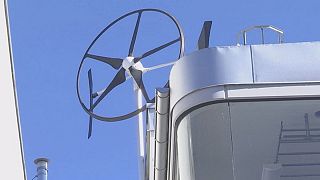 Just over the Öresund Bridge connecting Denmark to Sweden, lies Hallbarheten in the Swedish town of Malmö.
What could be mistaken for a residential building like any other reveals upon closer inspection an abundance of smart technology, with an urban wind turbine and solar panels on the roof, charging stations for electric and gas vehicles, and a tower that exhibits the inner workings of the building's energy management systems.
Residents can monitor in real-time their energy consumption on a tablet app. Peder Berne and his family moved in recently.
"Hi. So this is our apartment, we live here – me and my wife, Hanna, and daughter, Hedwig, and son, Truls. So here (he swipes tablet) we have the interface which gives me control of my energy consumption. With this, I can follow what things in the apartment actually drive the energy use. I can see how much energy is used in the kitchen at this moment and also the associated cost of that energy and this is actually one of the third most expensive hours today. One thing that I use personally quite a lot is different light settings, so the lighting turns on and off automatically, for example adapting to light or the light conditions outside, but it also gives me an opportunity to wash the dishes, do the laundry when the price of electricity is lower."
Taking us to the garage, Peder Berne shows us his electric car.
"So, during the test period we also have access to an e-vehicle. This car is the family's primary car at the moment and it fulfills more or less all our needs. Most of our journeys are quite short, to grandpa and grandma in Lund – the city next to Malmö – and this is perfect for travelling there."
The goal of this building is to test smart solutions to reduce energy consumption with an emphasis on renewable energy. Inside the energy column next to the apartment block, an intricate network of pipes, metering devices and hot water tanks enable researchers to experiment with different technologies in different apartments: of the eight homes here, four use district heating, two use biogas, and two use electric heating pumps.
Whilst Hallbarheten takes research into sustainable living to a new level, the housing development sits perfectly in the wider community. West Harbor district emerged from an industrial wasteland in the mid-Nineties and the city's planning authorities had a blank sheet to build one of Europe's first sustainable districts.
"The goals for this district are achieved today. I mean 100 percent renewable energy sources, locally produced, in a very interesting energy system with the aquifers, the windmills, solar panels, photo voltage and so on. So that is achieved. But if we are talking about the district as a whole, the 100 hectares, we are not really ready there. But we have a goal that the city as a whole should be climate neutral by 2030," says Christer Larsson, Malmö City Planning director.
Today, close to one third of all electricity in the city is produced using renewable sources, with the aim of ensuring that the whole city runs on renewable energy in the next fifteen years.