Greek 'red loan' debtors eye bank recapitalisation with trepidation
Comments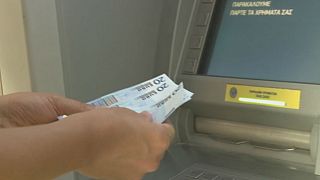 Greek banks have until the end of the week (November 6) to explain how they are going to raise 14.4 billion euros in extra new capital – according to stress test results published on Saturday by the European Central Bank.
Till a month ago, we managed to pay one third of the instalment: now nothing. The loan has turned 'red'
For the banks, under capital controls since July, it's the third recapitalisation process.
"For me, (the results) were better than expected. I see that the Europeans are more flexible towards us. They do not insist the banks should go out to the markets looking for large sums of money. They understand that "killing" the banks would mean "killing" the economy," said former Greek Finance Minister Gikas A. Hardouvelis.
The part of the capital that will not be covered by private investors, will be supplemented by the Hellenic Financial Stability Fund – in other words, paid for by Greek citizens.
The Fund has received 10 billion euros after the Greek government signed the third bailout programme, money which is now part now of the Greek public debt.
The process is largely dependent on dealing with what are called NPLs (non-performing loans) totalling 100 billion euros which have trapped people like Lefteris Meimaroglou.
Hit by the economic crisis, his family clothes manufacturing business had to close in 2012.
Meanwhile the loan taken out in the 1990s to expand the business still stands.
From an initial capital of 100,000 euros the debt has now risen to 250,000.
"I was devastated. To close down a company of 43 years. Nobody believed that things would turn out like they did, in this country. Till a month ago, we managed to pay one third of the instalment: now nothing. The loan has turned "red" (an NPL). I fear what all Greeks fear these days. We used our house as collateral and now we fear we will this too. We fear we will end up on the streets," he said.
Lefteris hopes that the recapitalisation of the banks will open the way for a "haircut" of his debt, so he can go back to rebuilding his life.
Thousands of others have taken their battles to court, with the help of consumer protection unions, to try to stop confiscations and foreclosures.