Taking the Arctic route: migrants cycle from Russia to Norway
Comments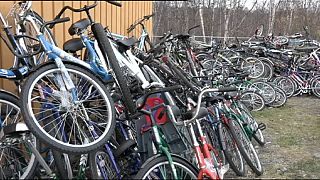 Cycling from Russia to Norway is a recently-discovered route asylum seekers are using to reach the border-free Schengen Zone.
Taxi drivers say they risk being fined for human trafficking if they drive people across the frontier, so many of those wishing to make the journey buy bicycles to complete the final stage.
Some take advantage of the situation, selling bikes at excessive prices and increasing the cost of a taxi trip to the Russian border towns of Murmansk and Nickel from ten to 500 USD.
But Storskog, on the Norwegian side of the border, is struggling to cope.
Hans Møllebakken, the Station Chief on one of Norway's border police stations said:
"We are not prepared for this level of activity. Neither the facilities nor buildings in Storskog are properly equipped. We have no personnel."
In the last week (September 30 to October 6, 2015), the number of people crossing the border has increased five-fold.
A reception centre and temporary tents have been set up to deal with the hundreds flocking to Storskog.
Many make the crossing from Nikel on the Russian side, then leave their bikes, before seeking shelter. Syrian Sousar Tahqaha considers the crossing safer than the Mediterranean route.
"It is safe. Other people go across the sea or through Turkey. That is a very bad way (route)," he said. "I think the number will increase this month because more people get to know about this route".
In 2014, just ten people crossed the frontier from Nickel by bicycle. Norwegian police say they expect this number to skyrocket to 1,000 in 2015.
Between August and October, 2015, the number of migrants arriving in Storskog has almost doubled every week.
With winter approaching, it remains to be seen how feasible it will be to travel this 'Arctic route.'