The platform hopes to help worldwide stars tap into their online fanbase
Comments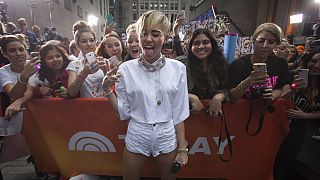 Victorious, a platform for celebrities and content creators to build their own dedicated app, wants to conquer the international market, the company has announced at Cannes' MIPCOM. Launched last April in the US, the company built its success in part thanks to strategic partnerships with Youtube stars such as Ryan Higa (15 million Youtube subscribers), and gaming channel Machinima (12 million subscribers). Now Victorious is coming to 12 different countries in Europe, South America and the Asian-Pacific region, with a variety of media and entertainment partners.
The platform, accessible via mobile or desktop, acts as a one-stop-shop for users, with features such as ingestion of content to Youtube, Vine and Instagram, scheduled posts and remixed User Generated Content uploaded by the audience to foster engagement. Eight of the Victorious-built apps have reached best-selling status on the Apple and Google app stores.
"Stars want to own their environment, it's hard to create content for each platform – Twitter Vine, etc. – now it's almost a new one every month," Victorious VP Tony Zameczkowski explained during a panel discussion at MIPCOM. "It is also hard to have an entire business model based on one single platform. Some Youtube stars have started diversifying."
Regarding the business model, Victorious offers monetizing opportunities to its users, by offering "the possibility to integrate in-app purchases, such as premium emojis for instance, and native advertising," as well as e-commerce and merchandise integration and premium content.
The potential audience for Victorious users is large and growing. The 2015 Ericsson ConsumerLab report found that 61% of the population in the 29 countries it studied watch TV and videos on their smartphones, an increase of 71% since 2012. The younger generation is the most avid: eight out of 10 teenagers watch streamed on-demand TV and video at least once per day.
The platform can teach content creators about this large audience, Zameczkowski says. "Users have access to the app's CMS and get granular data to help them make informed decisions, i.e. where to tour, where to focus merchandising efforts," to the effect that "there's no middle man anymore."
It's not the first attempt by tech companies to offer solutions to artists wanting to tap into their online fanbase and to rely on third-party services such as Twitter and Facebook. In 2011, Lady Gaga created her Little Monsters platform, a social network set up with the help of Backplane, a company co-created by Gaga's manager Troy Carter. Backplane later expanded its collaborations to other artists, such as Guns N' Roses, and eventually opened its social network builder in 2014.