VW shares continue to recover after steep falls
Comments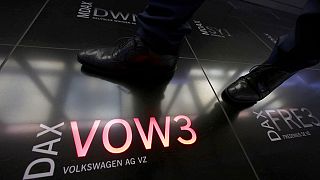 Volkswagen shares recovered slightly on Thursday after steep falls in recent days.
But the emissions scandal has threatened to engulf VW's rivals. Share prices fell by up to five percent for BMW, Renault, Fiat and Daimler.
At the close in Frankfurt Volkswagen was up by 0.58 percent.
This despite the company's admission according to the German transport minister that it has used the same fake emissions test in Europe as it did to falsify results in the States.
"I believe that the really big hysteria and panic at VW is over. VW will set aside money and dividends might be scrapped or at least reduced. Profit will be reduced too, no doubt about it. But I believe that all this is dominated by panic. The amount VW will ultimately have to pay will be manageable for the Volkswagen group," said Oliver Roth, capital markets strategist with Oddo Seydler Bank.
Volkswagen's stock remained nearly 30 percent down compared to its pre-scandal level.
BMW shares plunged after a report claimed some of its diesel cars had exceeded emissions standards.
The company denied manipulation and said it was unaware of the tests.