Tsipras returns as PM in decisive Greek election
Comments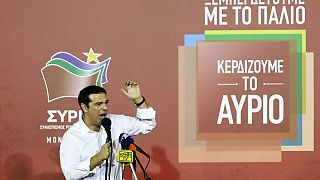 Alexis Tsipras and his leftist Syriza party have been voted back into power after a surprisingly decisive Greek election – the country's fifth in six years.
Syriza quickly pulled away from the second placed conservative New Democracy party – not enough for a majority in the 300 seat- parliament, but the Independent Greeks have agreed to join a coalition. The far-right Golden Dawn came in third.
Tsipras returns as Prime Minister despite having been abandoned by party radicals last month after he gave in to demands for austerity to win a eurozone bailout.
"This mandate is a victory of the people, we fought a difficult and hard battle and I feel today that I was proven right because the Greek people gave us a clear mandate, to continue to battle inside and outside for this country."
He made no direct reference to the 85 billion euro bailout which Syriza has pledged to implement while protecting vulnerable groups.
"My friends, the mandate that we have been given by the Greek people today is also a crystal clear message for us to untangle viciousness and a world of corruption that all these years have been governing this country," said Tsipras.
Tsipras was joined on stage by Panos Kammenos, leader of the the nationalist Independent Greeks who were his former partners after the previous election in January.
Results
With most votes counted:
Syriza – 35%
New Democracy -28%
Golden Dawn – 7%
Pasok – 6%
Communist KKE -5%
To Potami – 4%
Independent Greeks – 3%
Union of Centrists -3%
Turnout in this poll was just over 55%, down from 63% in January and low by Greek standards.