Zurich tops world's most expensive cities
Comments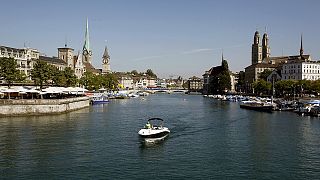 Zurich tops a new list of the world's most expensive cities.
According to a report by Swiss bank UBS, monthly living costs for a family of three go beyond 3,500 euros.
That figure is based on a basket of 122 goods and services that don't include rent. Fortunately inhabitants are among the most well paid, earning on average around 36 euros per hour.
Zurich is closely followed by Geneva and New York. And it's not only expensive to live in the Big Apple. High prices mean its also one of the most expensive places to visit for a first-class night out.
London is the fifth most expensive city in the world in which to live and work, but its workers are not among the top ten average earners globally.
The Ukrainian capital Kyiv is at the other end of the list as the cheapest city in the world, followed by Sofia and Bucharest.
Living costs for a family of three are nearly 1,200 euros per month and average earnings are a 20th of what someone in Zurich would gross.
The country relies heavily on imported goods as it has become poorer and the depreciation of its currency has hit its economy hard.
The UBS study also shows that shortest work schedule and highest number of days of paid vacation are enjoyed by workers in western Europe