Poor Chinese trade figures renew fears over shaky economy
Comments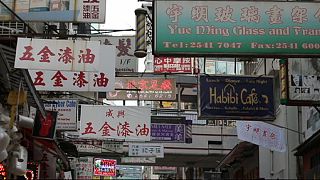 Imports into China fell far more than expected in August, adding to concerns over the effect of the slowdown in the world's second largest economy.
Imports fell by 13.8 percent compared to a year earlier – much more than the drop of 8.2 percent economists had been anticipating, and the decline in July of 8.1 percent.
The sharp decline in imports was particularly noticeable from Australia which saw a fall of 29.7 percent, and the European Union where the fall was 21.7 percent.
The drop reflects both lower world commodity prices and persistently sluggish demand at home.
Imports of key commodities such as iron ore, crude oil and soybeans all fell.
The fall in exports was less than expected, 5.5 percent down year-on-year, an improvement on an 8.3 percent fall in July.
Economists say last month's currency devaluation may help exports eventually, but these figures came too early.
"The currency appreciation in the last 12 months is actually putting a lot of pressure on the export sector. Even if you adjust the currency, typically we see a lagging period of about two quarters to be reflected in the trade data. So from that perspective, I would say export data is probably will continue on the soft side," said Haibin Zhu, Chief China Economist for JP Morgan Asset Management.
The figures left China with a trade surplus of $60.24 billion (53.83 billion euros) for August.
China's top planning agency has said that rail freight, power usage and the property market have all improved since last month, indicating the economy may be stabilising.
The slowdown has led to predictions that the central bank will have to cut banks' reserve requirements at least three more times this year to pump more money into the economy – and to counteract the effect of capital outflows as investors move their money elsewhere.