Does 'giant virus' find highlight risk of drilling in the Arctic?
Comments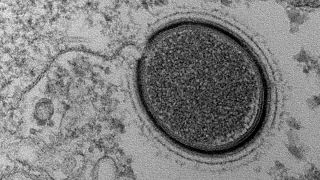 The discovery of a new 'giant virus' buried in Siberia for 30,000 years raises questions about the risk of drilling in the Arctic, a French scientist has claimed.
Mollivirus has been identified from a permafrost sample taken in the region's extreme north-east, according to a study published in Proceedings of the National Academy of Sciences on September 7.
Particles from such viruses – giant because while still microscopic they are much larger than other virus specimens – have the potential to cause disease to 'sensitive hosts' in the region, according to researchers at France's CNRS (National Centre for Scientific Research).
Jean-Michel Claverie, an evolutionary biologist at Aix-Marseille University, was involved in the discovery of Mollivirus.
He says its uncovering should make people reflect on the risk of drilling for oil and minerals in a region already under risk from climate change.
CNRS said in a statement: "This discovery, which suggests giant viruses are not uncommon and are very diverse, also proves that the capacity of viruses to survive in the permafrost for very long periods is not limited by a particular type of virus, but probably covers viral families with different replication strategies and therefore potentially pathogenic.
"The results from this sample of permafrost, which shows an extremely low concentration of Mollivirus, has important implications for public health.
"Some still infectious viral particles may indeed be sufficient, in susceptible hosts, for the resurgence of potentially pathogenic viruses in Arctic regions, which are increasingly coveted for their mineral and oil resources and whose accessibility and industrial exploitation are facilitated by climate change."
Edward Mocarski, a professor of microbiology at Emory University, told National Geographic the risk of a virus pathogenic to humans being released from the ice was very small.
He said: "A very small proportion [of the viruses on Earth] represent viruses that can infect mammals and an even smaller proportion pose any risk to humans."