Triumphant day for Japan and South Korea at Judo World Championships
Comments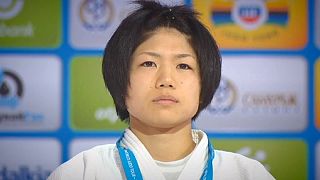 Japan's Misato Nakamura has won gold in the 52kg category at the World Judo Championship's in Astana.
The Kazakhstani cheered on as Nakumura saw off last year's finalist Andreea Chitu.
A first ko-soto-gake from the Japanese winner brought her close to producing a score but her Romanian opponent escaped. A few seconds later she managed to get out of an immobilisation again before yuko could be scored.
World-number-one Chitu was later penalised with a first shido, making it impossible for her to make a comeback.
In the men's competition, South Korea's Baul An won the World title after beating Russia's Mikhail Pulyaev.
The 2013 Junior World Champion and Pulyaev each picked up three penalties with less than a minute on the scoreboard.
When the final gong rang the winner was still undecided and both champions continued into golden score.
A last left-handed morote-seoi-nage attempt from An gave him the victory as Pulyaev, penalised with a shido for being passive, had to settle for his second consecutive silver at the World Championships.