The Perseid meteor shower will peak on Wednesday (August 12) and Thursday (August 13) evening.
It runs from late July to late of August as the Earth passes through different meteors – commonly known as shooting stars – which are debris from the Swift-Tuttle comet.
The comet last passed near Earth in 1992 and is not expected again until 2125.
Experts say there will be up to 100 meteors an hour on August 12 and 13, compared with 15 elsewhere in July and August.
As NASA says: "If you see one meteor shower this year, make it August's Perseids or December's Geminids.
"The Perseids feature fast and bright meteors that frequently leave trails, and in 2015 there will be no moonlight to upstage the shower."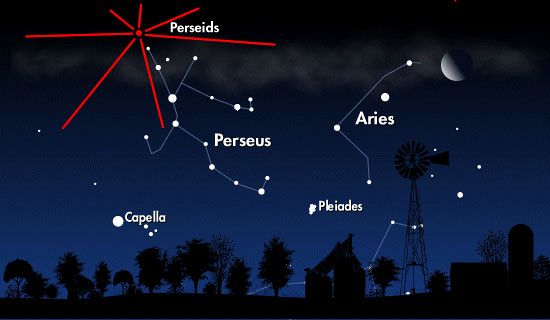 When one of Perseids hits the upper atmosphere, it creates a white-hot streak of super-heated air.
Occasional brighter ones survive for several seconds, leaving trails of glowing smoke and gas.
Perseids are named after the constellation of Perseus, from which they seem to radiate outwards.
We should note that the Perseids are not the only falling stars observable during the year. However, it is one of the most abundant and one of the easiest to observe temperature side.
HOW

CAN

I

WATCH

THE

SHOWER

?

You don't need any special equipment such as telescopes or binoculars to see this spectacular meteor shower.

The shower is best observed from 11 pm or midnight onwards, when you may see up to 100 meteors per hour.

- More of the fainter meteors will be visible from the countryside, away from city lights.

-The best direction to look is wherever your sky is darkest, probably straight up.

- Keep away from bright lights, give your yes et least 15 to 20 minutes to adapt to the darkness and lie back and stare at the sky.

-The Perseids are ideal for digital photography. Attach your camera to a tripod, preferably with a wide angle lens and a high ISO (darkness) setting. Keep the shutter open for 10-15 seconds at a time (longer in a really dark place). With a bit of luck, you should capture one or more Perseids streaking across the photo!
How I Accidentally Captured the ISS in a Self Portrait Albert Dros http://t.co/R4PiHL2Blm#photographypic.twitter.com/n7RmpsUTxr

— Romaneza Zaimal (@omennism) agosto 10, 2015
SEND

US

YOUR

PHOTOS

We would love to see your photos of The Perseids.

Send them via Twitter using the hashtag #euronewstars
Have you already seen the perseids meteor shower ? Where and when are you going to watch this spectacular event this year ?Leave your photos and comments in the comment section or use #euronewstars

Posted by euronews on Tuesday, 11 August 2015