Greece's full bailout programme could take weeks to implement
Comments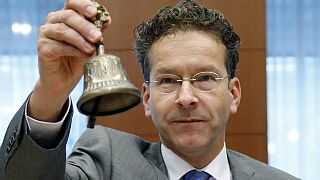 The eurozone's top official has said a golden key to solve Greece's problems has yet to be found. Jeroen Dijsselbloem who has just been re-elected as Eurogroup president and has taken a tough line with Greece admitted it will take a while to work out Greece's full bailout programme.
"Now we are talking about designing a completely new programme for three years. It will involve a lot more in terms of substance, and commitments and financing needs and it will take time to negotiate that. We have asked the institutions to do that as quickly as possible but it will probably be closer to four weeks than two weeks – that is my understanding, and some call me an optimist," said Dijsselbloem
Throughout the negotiations Germany's finance minister Wolfgang Schäuble has been depicted as the "hard man of Europe". Greeks blame him for his unrelenting stance but among his own voters his popularity has soared.
A recent poll claims nearly two thirds of Germans now back a third bailout for Greece but they doubt a willingness on the part of Athens to implement reforms required.