Rosetta: Waking Philae, ESA's sleeping beauty
Comments
By
Euronews
with
JEREMY WILKS, THE GUARDIAN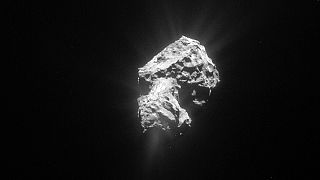 It was an unhappy ending to a space fairy tale which may yet see its happily ever after.
The European Space Agency's Philae lander hasn't responded to Rosetta's pings since it parked in a shady spot on Comet 67P back in November 2014.
Philae lander's last tweet:
My #lifeonacomet has just begun @ESA_Rosetta. I'll tell you more about my new home, comet #67P soon… zzzzz #CometLanding

— Philae Lander (@Philae2014) November 15, 2014
But as the comet gets closer to the sun, the chances of it recharging its batteries increases along with the hopes of re-establishing communications. This weekend the Rosetta team will begin a fourth attempt of making contact, hoping this time they'll get lucky.
Somewhere out there in space today, #philae may be waking up, and Koen Geurts @DLR_en is watching out for him! pic.twitter.com/ylYMMadKjr

— Jeremy Wilks (@WilksJeremy) May 30, 2015
Koen Geurts is part of the Rosetta Team working at the German Space Agency (DLR) in Cologne. He explains how they might be able to re-establish contact between Rosetta and Philae.
"Rosetta is flying approximately 200 kilometres distance from the comet. It will start sending signals to start the communication link with Philae, and if Philae is switched on and has sufficient solar power to respond, Philae will switch on its transmitter and respond, and establish a communication link and only then would we see here on the ground that Philae is alive."
Waking Philae from its slumber means the Rosetta team could resume its groundbreaking work on the comet. However, with limited power the tests may have be somewhat downsized.
"We are anticipating a situation in the beginning where we don't have the secondary battery to support operations, so we rely on solar power," explained Geurts. "So we are looking for measurements that are compatible, so for example doing the magnetic field measurements, taking images, the rulers and doing, for example, the sniffer measurements, the gas environment, these sort of short stand-alone measurements."
Even the most basic data sent from Philae could help to pinpoint the lander and establish how much its batteries could recharge as it heads towards the sun. It's only once they have this data that they can decide the next step in its now more than 10 year journey.