Round-the-world solar-powered flight lands in China
Comments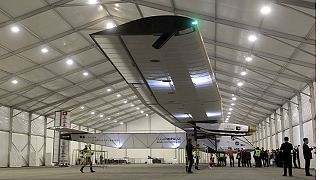 The first round-the-world flight in a solar-powered plane has landed successfully in China, completing the fifth leg of its journey.
The fuel-free plane aims to demonstrate that flying long distances using only renewable energy is possible.
The flight was led by Swiss pilot Bertrand Piccard, communicating with the mission's control team in Monaco.
Landing successfully in Chongqing is quite a symbol for the expedition: China is the world's biggest emitter of carbon dioxide and the city of Chongqing is very polluted.
The plane, called Solar Impulse 2, landed in Chongqing after flying from Myanmar for over 1,300 kilometres for 20 and a half hours.
The next stop will be Nanjing in eastern China.
It has been almost three weeks since the plane's venture began in Abu Dhabi.
The project expects its flight around the globe to be completed in a total of 12 legs, with a return to Abu Dhabi in a few months' time.
The aircraft, which took 12 years to build, is as light as a family car but has a wingspan as wide as a Boeing 747.