Ukraine votes to approve 'special status' to rebels in the East
Comments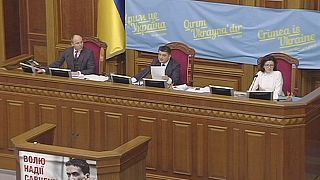 Ukraine's parliament has voted to offer limited self-rule to pro-Russian rebels in the East.
It is a sign to the West that they are willing to stick to the terms of the Minsk truce, but not all MPs were happy to allow the separatists to tighten their grip on the region.
"They will elect those people whose hands are covered with Ukrainian blood," said Yulia Timoshenko, MP, "Batkivshchyna" party. "So does anybody have doubts that these elections will be fraudulent, and those who killed the Ukrainians, who mutilated our state will be elected?"
Kyiv is insisting that the laws only come into effect once local elections are held in the eastern region, a move which has angered Russia. Moscow says that this is in breach of the Minsk deal, a claim which is countered by Serhiy Pashinsky, a Ukrainian MP (Narodniy front).
"The state of Ukraine, and the President himself have signed Minsk agreements that covered some clauses, and we're following these clauses," said Pashinsky. "We demonstrate to the world and the aggressor that we're ready for a peaceful solution of the problem. But the elections will be held as soon as the legitimate Ukrainian authorities start operating there," he added.
The West sees the fragile truce as the best hope for lasting peace in a conflict which has already killed 6,000 people. Protests were held in the Donetsk region for the latest victim, a 7 year old girl who was struck by a Ukrainian armoured vehicle, raising tensions further.