Mind the polar bears: How to watch a solar eclipse
Comments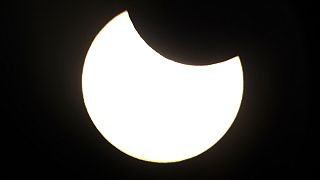 Hotels and ferries to the Faroe Islands are full to the brim with eclipse watchers keen to see a total eclipse. But if you didn't book your tickets to to the North years in advance you can catch a glimpse of a partial eclipse elsewhere. Here's how.
Where exactly can I watch the eclipse?
You can watch a partial eclipse in Europe, large parts of Siberia, Northern Africa, Turkey, Israel, Palestine, Jordan, Lebanon, Syria, Iraq, Northen Iran, Northern Central Asia, Mongolia, Northwest China.
waited for too long to decide to go to Faroe islands to see solar eclipse. damn

— Philip Bloom (@PhilipBloom) March 16, 2015
The Faroe Islands and Svalbard sitting at 50 and 78 degrees North respectively, will be treated to the full monty. Norway has warned tourists to be aware of polar bears who roam Svalbard freely. In 2011 a British teenager was killed by a polar bear, and on average residents kill three bears per year in self-defence.
The eclipse will hit continental Europe near Zahora, Cadiz Spain at 07:57: UTC (8:57 CET) and travel east over the next couple of hours reaching Paris at 8:23 UTC and Moscow at 10:13UTC.
You can see a 98 percent eclipse from northern Scotland.
This Friday parts of the UK could see a partial #SolarEclipse. Latest forecast at http://t.co/w30c2a2BwQpic.twitter.com/4IpQ2MsxdI

— Met Office (@metoffice) March 16, 2015
What causes a solar eclipse?
It can only happen when the sun, the moon and the earth are in alignment and the moon casts a shadow on the earth. A total solar eclipse can only be seen on around 0.4% of the earth's surface as this is the area covered by the moon's shadow.
How often do eclipses occur?
There is an "eclipse window" of 33 days, when the Moon's shadow can hit the Earth for a Solar Eclipse (the Moon can enter into the Earth's shadow for a Lunar Eclipse). This window repeats itself every 173,3 days (about six months). Each eclipse window will include both a solar and a lunar eclipse although both won't be visible from the same places.
How long does a Total eclipse last?
Theoretically the maximum duration of a TSE is 7 min 33 sec.
The maximum duration on March 20th will be 2 min 46.9 sec. at 64°17'N 6°54'W in the North Atlantic south east of Iceland and north of the Faroe Islands. (09:45:16.6 UTC)
How to watch an eclipse?
You just need a clear view of the sun. A couple of days before the eclipse try and see whether you can view the sun from your favourite spot. And don't forget your eye protection.
How to take a photo of the eclipse?
Try to cover the lens of your camera or smartphone with your eclipse-glasses!
HEALTH
WARNING
Never look directly at the Sun. You need to wear safety goggles which can be bought online.
Never watch the Sun through binoculars, even with your eclipse glasses. The protection is not sufficient. To view an eclipse directly through a telescope or binoculars the lens has to be covered by a special filter which is far stronger than the filters used for eclipse glasses.
Eclipse chasers and Astro tourism
Today scientists still organise expeditions to view total solar eclipses, but since the advent of mass travel in the 1950s more people chase eclipses. They are known as 'umbraphiles'.
On August 1st, 2008 15,000 people converged on the Siberian city of Novosibirsk to watch the eclipse. As all hotels had been fully booked years ahead the city's administration put up tents to accommodate them.
Solar eclipse next Friday! Last time I filmed one was when I was in Siberia almost 7 years ago! EX1/ Letus Ultimate! https://t.co/6i4RXKQ1ma

— Philip Bloom (@PhilipBloom) March 12, 2015
On November 14th, 2012 up to 60,000 "umbraphiles" went to watch the TSE at Cairns and Port Douglas in Queensland, Australia. More than half of them from outside Australia.