Edmonton withdraws bid for 2022 Commonwealth Games
Comments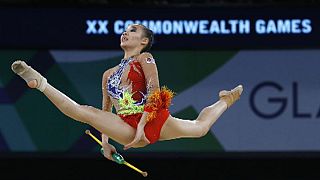 The Canadian city of Edmonton withdrew its bid for the 2022 Commonwealth Games Tuesday due to economic pressures.
They will instead focus on bidding for the 2026 Commonwealth Games while leaving the South African city of Durban as the only bidder for the 2022 Games.
The drop in global oil prices saw Alberta's finances go from a $500 million surplus when they initially announced their intention to bid to a $7 billion deficit.
"This hasn't been an easy decision," said Bid Chairman Reg Milley in a statement. "But at this time it would not be right to move forward with our bid when cuts are being made in our communities to programmes like education and health."
Despite being the final bidder, Euronews has learnt that Durban will still have to "formally lodge their bid to the CGF at a ceremony" and undergo "a thorough evaluation process prior to a report being presented to the CGF membership who will have the final decision at their General Assembly in September."
However, unless no new cities step in to bid, it seems likely that Durban will be the 2022 Games host. Durban bid spokesperson Faizal Dawjee confirmed that Durban would meet the final deadline of March 2 to submit papers.
The Commonwealth Games Federation said it was confident that "there will be a great 2022 Commonwealth Games" and will "now look forward enthusiastically to working with the Durban 2022 Bid team."