Hague court to rule on Croatia and Serbia genocide claims
Comments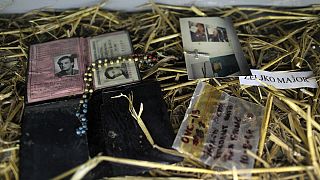 The International Court of Justice in the Hague (ICJ) will today hand down its ruling on duel claims of genocide by Croatia and Serbia
dating back to the 1990s Balkans war.
Croatia is seeking reparations against Belgrade for backing a rebel Serb minority in carrying out ethnic cleansing – in particular in the eastern town of Vukovar.
It was there that the first mass atrocity of the war in the former Yugoslavia was carried out. Serb forces are said to have taken more than 200 patients from a local hospital and executed them in a nearby field.
In the days that followed some 2,500 people were reportedly killed after the town had been captured by the Yugoslav army and local paramilitaries. More people were killed in the three days following the fall of the city than in the three-month siege preceding it.
In response to Croatia's lawsuit, Serbia has filed a counter claim over the expulsion of more than 200,000 ethnic Serbs from Croatia in 1995.
The Court's ruling is unlikely to draw a line under one of Europe's most brutal wars but it may shed light on the fate of thousands still missing.
Although the ICJ ruled in 2007 that the Massacre at Srebrenica was an act of genocide, the court then dismissed demands for reparations .