European shares struggle to hold ground as market fears grow
Comments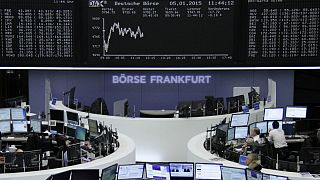 An overnight slump in the Nikkei index in Japan of 3.0 percent brought storm clouds to the European markets on Tuesday following a tough Monday for traders as the holiday bubble burst.
Investors' concerns over Greece, and a oil price now under $50 a barrel in the US, its lowest in more than five years also weigh heavily.
The euro's slide to a nine-year low against the dollar adds another factor that is giving the market pause for thought.
However by mid afternoon a rally in auto industry shares helped European markets steady.
Strong December industry sales data from the United States boosted car makers with Fiat Chrysler Automobiles, the most exposed Europe-listed manufacturer, up 2 percent.
Car sales are an early indicator each month of consumer spending, which is deemed to have benefited from falls in oil prices.
The Athens stock market was shut on Tuesday for a public holiday, having fallen 5.6 percent on Monday.