Technology fever grips Las Vegas: the Consumer Electronics Show
Comments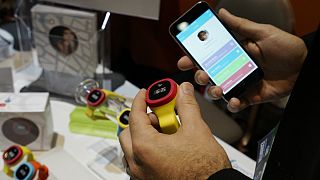 Las Vegas is going more high-tech than ever with the annual Consumer Electronics Show!
More than 160,000 technology innovators and gadget geeks are flocking to the desert city for the four-day CES show which opens officially this Tuesday.
This is the largest trade show in the Americas, with more than 34 football fields-worth of exhibition space.
Consumer Electronics Association President Gary Shapiro said: "This year is a record-breaker. It's not only larger and bigger with more exhibitors, but it's more exciting. There's more products. There's more new innovation here. We are 'crescendo-ing' with the innovation because of so many different factors and so many different categories."
Wearable technology isn't just for your wrist anymore. Smart clothing that can take your temperature or measure your heart rate are also debuting at this year's CES.
Robin Roskin, founder of Living in Digital Times, said: "Well now you've got clothing with sensors built in. You've got clothing that can get cooler as your body gets warm. You've got clothing that can monitor your heart if you're a cardiac arrest risk — or a diabetic, to tell you the level of your blood sugar: constant real-time monitoring."
For the first time at CES, this year there is an area just for drones. This technology has come a long way, taking various forms, from toys to photographic and filming platforms.
TechCrunch reporter Colleen Taylor said: "Drone technology is huge. Personal drones are very big. They just keep getting cheaper and they just keep getting easier to fly. So, definitely at CES, look up: not all of this stuff is just going to be on the floor."
A variety of self-driving cars and smart dashboards demonstrate how seriously the industry is putting tech into vehicles. A record 10 automotive manufacturers are set to exhibit in Las Vegas, including Toyota, Ford, BMW, Audi and Mercedes. Automotive exhibits will cover 17 percent more event space than last year.