Which countries in Europe cause the most air pollution damage?
Comments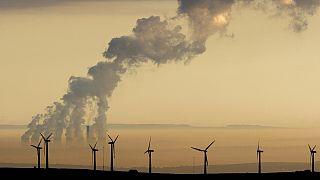 Campaigners have urged a crackdown on Europe's worst polluters after a report claimed dirty air is costing society up to 189 billion euros a year.
Half the damage is being done by just one percent of industrial plants, according to data from the European Environment Agency (EEA).
It said air pollution, chiefly from coal-fired power plants, cost Europe as much as 189bn euros in 2012, the same as Finland's GDP.
Critics called on the EU to stop the worst emitters and said operators were still "shamefully dragging their feet" over meeting emission standards.
WHO

CAUSES

THE

MOST

AIR

POLLUTION

DAMAGE

?
Germany was Europe's biggest contributer, according to EEA figures. It was responsible for 38.2 bn euros of damage to society as a result of air pollution, which was around one fifth of Europe's total in 2012.
Next was the United Kingdom (25.9 bn euros), followed by Poland (24.8 bn euros), France (14.3 bn euros) and Italy (13.8 bn euros).
The report also looked how much air pollution damage countries caused, relative to their national output. Taking this into account the worst offenders are Bulgaria, Romania, Estonia and Poland, according to the EEA.
Meanwhile of the 30 most damaging facilities in Europe, eight were in Germany; six in Poland; four in Romania; three in Bulgaria and the United Kingdom, two in Greece; and one each in the Czech Republic, Estonia, Italy and Slovakia.
"

SHAMEFULLY

DRAGGING

THEIR

FEET

"
The European Commission (EC) published draft legislation to curb air pollution from industry and traffic last year.
Janez Potočnik, then EC commissioner for the environment, said air pollution was an "invisible killer" and responsible for more than 400,000 premature deaths in 2010.
But the new EC, approved in November, is considering changing or scrapping the proposed new law, according to documents seen by the news agency Reuters.
Enrico Brivio, EC environment spokesman, told euronews no decision had been taken on altering or tearing up the proposed legislation. He said Maltese politician Karmenu Vella, the new commissioner for the environment, will talk to the EEA in December before the EC takes a decision on the draft law later that month.
Some industrial sectors say they are struggling to be competitive and that EU regulation risks driving them out of Europe.
The coal sector says it offers a cheap, secure fuel source, indigenous to many European nations, and that the cost of switching to alternatives is high.
"

COAL

A

THREAT

TO

HUMAN

HEALTH

"
Christian Schaible, senior policy officer at the European Environmental Bureau, said: "The EU should not allow the most polluting emitters, who make up only 1% of the EU's installations, to continue being exempted from stricter EU emissions standards.
"Cleaning up coal-fired combustion plants alone would yield environmental and health benefits of up to 55 billion euros a year. These standards were deemed feasible almost a decade ago but operators are still shamefully dragging their feet."
Monica Frassoni, co-chair of the European Green Party, said: "It is no coincidence that the 30 biggest facilities the report identifies as worst polluters, are 29 power generating facilities, mainly fired by coal.
"Coal is still one of the main threats to ambitious climate goals and to human health. If we want to guarantee substantial environmental and health benefits, the reduction in local air pollution, along side providing further structural incentives for investment in energy efficiency and renewables, as well as sustainable resource management, are essential.
"The old carbon-heavy industry, including the coal sector, claim to offer cheap and secure fuel for the growth of our economy, and that the cost of switching to renewables is too high. What they would never admit are the hidden costs of this outdated technologies, which you can estimate in this case, or in the case of Ilva. The biggest steel company in Europe costs to society 2.5 bn euros (between 2008 and 2012).
"One year ahead of COP21 in Paris it is fatal that the environmental cost of burning fossils has dropped in price at the European emissions market and coal has become more lucrative again."
The EEA published the costs of air pollution after assessing a number of areas, including premature deaths, hospital costs, lost work days, health problems, damage to buildings and reduced agricultural yields.
Hans Bruyninckx, EEA's executive director, said: "While we all benefit from industry and power generation, this analysis shows that the technologies used by these plants impose hidden costs on our health and the environment. Industry is also only part of the picture – it is important to recognise that other sectors, primarily transport and agriculture, also contribute to poor air quality."
EEA said during the course of its study – which ran from 2008 to 2012 – damage costs had declined, but this could be down to reduced activity because of the recession.
Enrico Brivio, EC environment spokesman, said: "The commission welcomes this report from the EEA. Reducing the damage to human health and the environment is the key objective of EU policies related to climate action and air pollution.
"The report confirms the need to continue reducing emissions from large industrial sources such as coal-fired power plants.
"The Industrial Emissions Directive, which started to apply from 2013, will further reduce air pollutant emissions through the enhanced EU-wide application of the Best Available Techniques (BAT). It sets in particular stricter emission limit values for existing power plants, which will start applying for many plants in 2016 and to others between 2016 and 2023.
"This report also confirms the need to continue the decarbonisation of the power sector, as a key sector where significant emission reductions are needed for meeting our climate and air quality objectives."