Inventor hopes flying car will take off as prototype is unveiled
Comments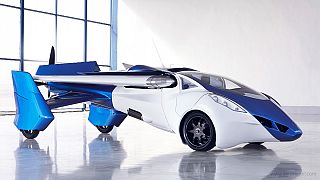 Aeromobil has unveiled a prototype flying car which, it says, can be a real "game changer" in public transport on a global scale.
The firm says it has the potential to become "a regular mode of transport for commuters and middle-distance travellers".
The vehicle, which was unveiled at Pioneers Festival in Vienna, uses regular gasoline, can fit into a standard parking space and can be used on the road like any other car. It has retractable wings and seats two.
As a plane it has a range of 430 miles (700km) but can cover 540 miles (875km) as a car. On the road it has a top speed of 100mph (160kph).
For takeoff the vehicle needs a grass strip or paved surface of a few hundred metres long. The car is a few years away from being production ready and is likely to be priced in the region of $280,000 (€220,000)
Stefan Klein, one of the creators, says the idea for the car started 25 years ago in a garage.
The prototype contains all the main features that are likely to be incorporated into the final product, such as avionics equipment, autopilot and an advanced parachute deployment system.
But Aeromobil's product is not the first nor only flying car. American firm Terrafugia has a street-legal vehicle that it says can convert from a plane to a car in under a minute.
Called the Transition it can fly in and out of 5,000 airports in the US and can be driven on public roads.