Jonathan Hill is to be Britain's man in Brussels – or maybe not if some MEPs get their way in hearings this week.
Parliamentarians have expressed concern about Jonathan Hill's previous links to the City of London, which they think makes him unsuitable to succeed Michel Barnier, the bloc's financial services commissioner.
They think that he is merely Prime Minister David Cameron's 'personal' envoy to defend Britain's interest.
"Do you really want to trust the regulation of the financial sector to a former lobbyist, coming from the UK," asked Philippe Lambert, a Green MEP from Belgium.
Huffing and puffing is what the European Parliament does best.
But MEPs do have the power to block the appointment of the whole Juncker commission under EU rules.
Liberals and left-wing members are also targeting Hungary's Tibor Navracsics, a senior member of Victor Orban's government.
And doubts have been cast on Alenka Bartusek from Slovenia, who effectively nominated herself when she was prime minister.
Meanwhile, Spain's Miguel Arias Cañete might be earmarked to take over the climate action dossier, but he has previously strong links to the oil sector.
Then there is former French Finance Minister Pierre Moscovici. He will be tasked with keeping an eye on his country's public spending; Paris has already said it will breach an EU-agreed deficit target this year.
The hearings will last until October 7.
EU Commission members by Country
Full list of the EU Commission members
President of the European Commission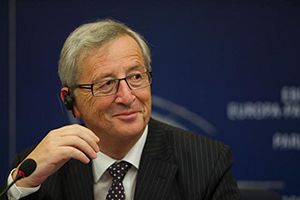 Jean-Claude Juncker
(Luxembourg)
Commissioners-designate

*Frans Timmermans* _(The Netherlands)_
First Vice-President
Better Regulation, Inter-Institutional Relations, the Rule of Law and the Charter of Fundamental Rights

*Federica Mogherini* _(Italy)_
High Representative of the Union for Foreign Affairs and Security Policy / Vice-President of the Commission
Vice-Presidents

*Kristalina Georgieva* _(Bulgaria)_
Budget & Human Resources

*Andrus Ansip* _(Estonia)_
Digital Single Market

*Alenka Bratušek* _(Slovenia)_
Energy Union

*Valdis Dombrovskis* _(Latvia)_
Euro & Social Dialogue

*Jyrki Katainen* _(Finland)_
Jobs, Growth, Investment and Competitiveness
Members of the Commission

*Maroš Šefčovič* _(Slovakia)_
Transport & Space

*Günther Oettinger* _(Germany)_
Digital Economy & Society

*Johannes Hahn* _(Austria)_
European Neighbourhood Policy & Enlargement Negotiations

*Cecilia Malmström* _(Sweden)_
Trade

*Neven Mimica* _(Croatia)_
International Cooperation & Development

*Miguel Arias Cañete* _(Spain)_
Climate Action & Energy

*Karmenu Vella* _(Malta)_
Environment, Maritime Affairs and Fisheries

*Vytenis Andriukaitis* _(Lithuania)_
Health & Food Safety

*Dimitris Avramopoulos* _(Greece)_
Migration & Home Affairs

*Marianne Thyssen* _(Belgium)_
Employment, Social Affairs, Skills and Labour Mobility

*Pierre Moscovici* _(France)_
Economic and Financial Affairs, Taxation and Customs

*Christos Stylianides* _(Cyprus)_
Humanitarian Aid & Crisis Management

*Phil Hogan* _(Ireland)_
Agriculture & Rural Development

*Jonathan Hill* _(United Kingdom)_
Financial Stability, Financial Services and Capital Markets Union

*Elżbieta Bieńkowska* _(Poland)_
Internal Market, Industry, Entrepreneurship and SMEs

*Vĕra Jourová Justice* _(Czech Republic)_
Consumers and Gender Equality

*Tibor Navracsics* _(Hungary)_
Education, Culture, Youth and Citizenship

*Corina Creţu* _(Romania)_
Regional Policy

*Margrethe Vestager* _(Denmark)_
Competition

*Carlos Moedas* _(Portugal)_
Research Science and Innovation