The President of Catalonia, Artur Mas, has signed a decree in Barcelona paving the way for a referendum on November 9 on independence from Spain, a move the government in Madrid has vowed to block.
It follows a vote in the Catalan parliament last week, granting the president power to call a ballot.
The Spanish government opposes the vote which it says would be unconstitutional.
"We want to vote, we want to decide and now we have the framework and the right time. I am going to take advantage of this moment to address all Spanish people: the fraternal ties that bind us to the rest of the people of Spain are intense and deep. We have a great history in common, a history that will continue with the will to build together the Europe of the 21st century," Artur Mas said in a speech after he had signed the decree.
Outside the regional government headquarters where the ceremony took place, hundreds of Catalan nationalists waved flags and chanted their support.
But Spain's Prime Minister Mariano Rajoy, who has vowed to defend the unity of the country, is expected to take legal action before Spain's Constitutional Court.
The government could also move to suspend the powers of the Catalan regional parliament.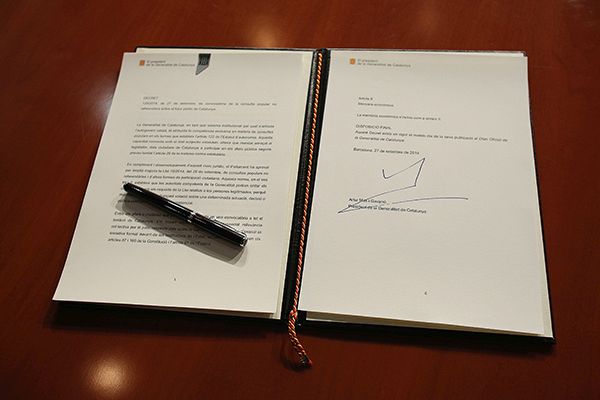 Support for independence in Spain's northeastern region has been growing, fuelled by the economic crisis.
Opinion polls suggest about half the electorate back separation from Spain.