Christine Loh is the Under Secretary for the Environment in Hong Kong, one of the world's most densely populated cities. Euronews' Seamus Kearney spoke to her about how the territory has dealt with the problems linked to mobility, and some of the solutions found to move people and goods around smoothly, efficiently and in an environmentally-friendly way.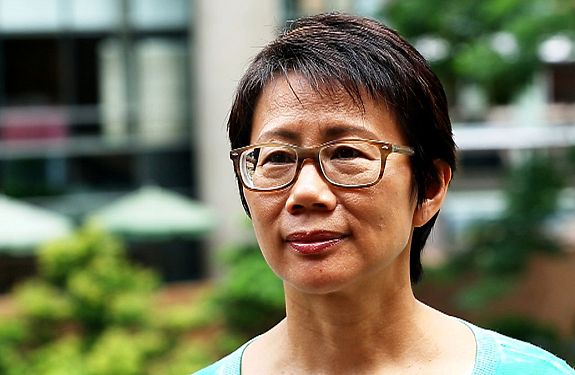 Seamus Kearney: "Why was it so important for Hong Kong to tackle this issue of smart mobility?"
Christine Loh; "We really just have to be smart about mobility. We're a really small jurisdiction, about a thousand square kilometres, but we have over seven million people, and 40 per cent of the city is actually protected country park. So people are being really squeezed into a very tight and small space. So we have to be very high-rise, extreme conditions, and our public transport has to be excellent."
Seamus Kearney: "What kind of thinking are you following here in Hong Kong?"
Christine Loh: "The one thing I think Hong Kong has done very well is to build out our underground and train system, in time, to cope with the population growth. The second thing that we've had to do is to continue to use our heritage tram on Hong Kong island, which is very famous; it's over 100 years old. Hong Kong island itself is a mountain, a big piece of rock. We also have the very old heritage Peak Tram, which goes right to the top, where we have lots of people still living up there. And then of course there's the famous electric escalator that goes up the mountain. So these are the things that we've had to deal with. And going further out into the new towns, we really have to have the railways, which is why Hong Kong invested so much time and money into building the system."
Seamus Kearney: "You have a 90 per cent rate when it comes to use of public transport, but tell me about the vehicles on the street? What are you doing to make sure that they are good for Hong Kong in terms of the environment?"
Christine Loh: "Because so many people travel on public transport, beyond the trains we have our bus fleet, we have what we call our public light buses. So these unfortunately are not as clean as we would like them to be because in the past we hadn't set a date whereby old, particularly diesel vehicles, have to get off the road. Now we have a defined life of 15 years. Today we still have a lot of old vehicles. What we did is we recently put in place an expensive, but I hope a very effective scheme, of replacing 82,000 diesel vehicles, of different sizes and types, because we have an old fleet. And we've put 1.2 billion US dollars to work with the industry to replace these vehicles starting this year and finishing in 2019. I think this is the biggest replacement scheme of vehicles in the world."
Seamus Kearney: "And also emissions. You're looking at cleaner fuels, you have a lot of LPG (liquefied petroleum gas) use, for example, with taxis?
Christine Loh: "Yes we switched from diesel taxis to LPG taxis some years ago, and this has been very successful. The thing about vehicles is that even if you are using cleaner fuel, you've got to make sure they're maintained well. And so we struck a deal with the taxi operators and the public light buses operators, giving them a free catalytic converter. We didn't want to argue about it, because an old catalytic converter emits very high emissions. So now that's done, we're putting in place a sensor system to now catch the people who are still emitting."
Seamus Kearney: "On this question of having to be creative and innovative, how does that work here? Is that in the fabric of the place? How do you motivate everybody to be on the same page when it comes to finding solutions?
Christine Loh: "Getting everybody on the same page is really difficult, because people are responsible for different things, and they look at a problem or a solution from their own angle. So what's really important in Hong Kong is to have the great ideas, to be able to visualise ideas, because those ideas are going to wake people up to say 'we have solutions'. Secondly, a lot of stakeholder and community engagement, because a lot of people have to participate. So, for example, if you want to shift traffic, if you want to pedestrianise, it's going to affect hundreds and thousands of people. So getting them on board over a number of years of transition to make it work, that's critical."