Health officials in West Africa say efforts to contain the worst outbreak of Ebola in history face obstacles such as the suspicion and traditions of local people.
Government ministers from 11 countries in the region are meeting in Ghana to plan what's described as "drastic action".
The outbreak has killed 467 people in Guinea, Liberia and Sierra Leone since February, making it the largest and deadliest ever, according to the World Health Organisation (WHO).
Experts say fear and mistrust are hampering efforts to combat the virus.
"We have challenges that are not so much related to institutional capacity but they pose a serious threat to our campaign against the disease and there are issues like ignorance, illiteracy, denial and cultural tradition and to some extent even some elements of 'politicisation'," said Abubakarr Fofanah, Sierra Leone's Deputy Health Minister.
He added that cash was needed for drugs, basic protective gear and staff pay.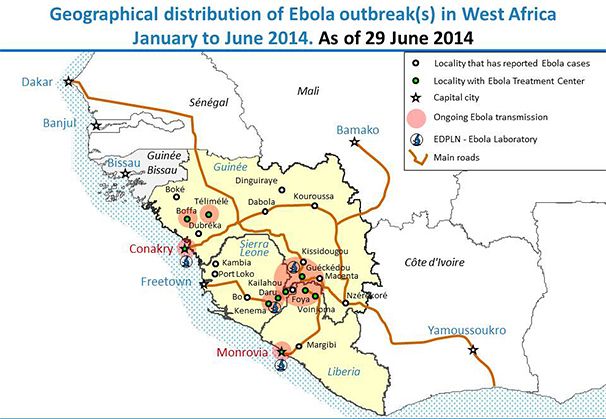 (WHO/ OMS)
The latest warning of a lack of resources being dedicated to battle the disease, follows recent calls from NGOs for the international community to offer more aid to the worst affected countries to stem the virus.
Bustling cross-border trade between the affected countries is among the factors blamed for the spread of Ebola.
But travel restrictions are thought unlikely and would be unenforceable.
The authorities are trying to stop relatives from giving victims traditional funerals – often involving washing the body manually – and instead allow them to be buried by health staff wearing protective gear.
The Red Cross in Guinea said it had been forced to temporarily suspend some operations in the country's southeast after staff working on Ebola were threatened. It later said only international staff were removed.
A Medecins Sans Frontieres centre in Guinea was attacked by youths in April after staff were accused of bringing the disease into the country.